Trust, reliability and discretion
In the luxury goods industry, material and product traceability, real-time tracking and inventory management are of the utmost importance. Customers are increasingly demanding transparency regarding the composition and origin of their products, and want to be reassured at all times as to their authenticity. This is where we come in.
We offer solutions that allow you to securely digitise your processes and centralise your data without the risk of falsification, thanks to NFC/UHF RFID, IoT, 1D/2D barcode, blockchain and image-based identification technologies.
Since 1998, Solid has been providing expertise to leading companies in the luxury sector with reliability and discretion. We know and understand your problems. Our challenge is to bring you the most innovative solutions on the market. Our tailor-made approach has enabled us to develop trusting relationships with the leading watch brands.
Take control of your assets!
With barcode, RFID or beacon technologies, identify and track your assets with stock transfer, maintenance, inventory and cleaning capabilities.
The right hand of your ERP!
The mobile application for carrying out field operations and exchanging information directly in real time with your ERP. Stock management, production, sales, delivery, SolCapt adapts and supports you throughout your supply chain.
The most complete design and printing software!
Create, design and print your product labels with this software. Interfacing with any ERP, it allows the automation of your printing.
Protect the unique identity of your products!
Create a digital passport for your products, fight counterfeiting, control and consolidate the sell-out of your shops worldwide.
Secure your pieces during your events!
Locate your products in real time at important events, exhibitions or in-store presentations. With this solution, the pressure of events is taken down a notch.
Approved by the leading Swiss watch manufacturers
Does your company need cards?
Whether it's a warranty card or an employee card, we can help you create your card: from the choice of media to the integration of technology and personalisation, we offer a wide range of options.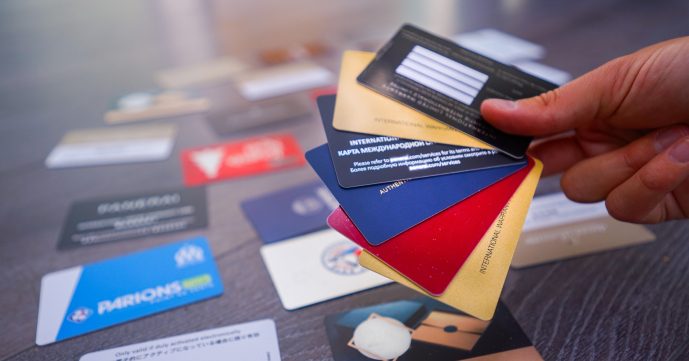 Event-based coin tracking - RFID technology for luxury goods
In 2014, a Swiss watch manufacturer, who had already been a client for some time, contacted us regarding a need they wished to cover: the tracking of watches during trade fairs and events. We proposed them an efficient and totally innovative concept: the tracking of parts thanks to RFID technology. That's how we started in event tracking.